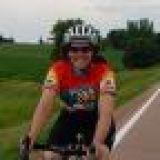 "If you want to go fast, go alone. If you want to go far, go together" -African Proverb

Today was a perfect weather day here in Minnesota, light wind, big sun, okay a bit hot at about 90, but it isn't Florida so now weather that is making IronK swoon seems rather tame.

After last weekend's 600k, I was of course ready to hit it again. Many asked if I would go and do the 300k with the Driftless Randonneurs yesterday, but I've been out of town riding enough. If I was going to do a 300k, I'd do the one that leaves from my house. And I went to sleep thinking I would do just that.

Of course, this morning, I got up, made coffee and had my daily chat with IronK. We have spent an hour chatting at 5AM every day for the last 18 years. Fortunately, I haven't run out of things to say. The topic of conversation was partially the 600k. I had to reflect on the advice I had given a friend recently about training for 1200ks. Sure mega miles will get you strong, but they can also grind you down too. I realized I hadn't ridden a long ride by myself all year. Talk about a major wish being granted, I'm going to have to call my fairy godparents in Seattle and say thanks. I also recently committed to what will undoubtedly be the biggest challenge I have ever attempted on the bike, or off it (unless you count living through peritonitis - nothing is ever going to be tougher than that). I asked myself honestly, what was going to make me a stronger rider? Was it doing yet another long ride going to get me through PBP and what I think will be bigger than PBP? The resounding answer: no.

So my traditional, beat the miles into the ground changed. Instead of riding a long, hot 300k. I'd ride my favorite 100k permanent, the Caffeine Express. At 69 miles and, now, about 3,000 ft of climbing, it isn't long, but it has absolutely constant rollers. Big ones, little ones, and due to construction, it currently has a thigh-killing 15% grade that, were it longer, would give Freedom Road a run for the money. Perfect PBP preparation and I would ride it as fast as I possibly could. I would pound the hills without my usual hawk-like regard for my blood sugar tank. The point would be to hammer on a hilly course and see what could be done. Besides, as pretty as it is, I hadn't ever taken good pictures of it and that is just too bad. So this would be my selfie ride.
Okay, not such a bad selfie...
Which is appropriate because 1) I am terrible at taking selfies and 2) I am generally terrible at going fast especially when climbing.

So promptly at 8:00AM, I left and headed down Minnetonka Blvd having visited the YesMart (which is gradually turning from a mini-mart to a head shop). I universally hate this road mostly due to traffic and the fact that familiarity breeds contempt.
Father's Day Fishing - Ride the Bike to the Lake and off you go
But this morning was actually pleasant - probably all the fathers are sleeping in. The turn onto Baker Road was welcome and I rode the rollers up and down for about 10 miles noticing that instead of my typical pace, I was able to steadily maintain an 18 mph pace. I briefly detoured to get a look at the Minnesota River Bluffs trail.
Typical Trail Sign
It has been closed for a year due to last year's torrential flooding. Maybe someday it will be fixed, but not yet.

The turn onto Pioneer Trail puts you on giant rollers, the kind I always associate unconsciously with PBP. In 2011, I ran into my friend, Ron from Seattle, who advised me after the first one, "lather, rinse, repeat". These don't last for long, but instead of conserving energy for later, I pounded my way up like I had an ax murderer behind me. I would get to the top sucking air, but still going fast and recover on the way down the next. The legs burned.

The descent to Chaska on Audubon Road has a fabulous panorama of the Minnesota River Valley. On a different day, I would have done my 200k that travels along the river, but not today.
Descent to Chaska on Audubon Rd
I screamed down the bluff at about 40 mph and turned into the first control at 19 miles, in only an hour an 10 minutes. Hmmm, I checked to make sure I put my own legs on this morning - this wasn't very typical for me. At the Holiday Station, a very major victory in that they now stock almond milk. I bought two.

A mile later, I came to a screaming halt. At Walnut and Chaska is my favorite picnic park, the Fireman's Park. It's old and has a historic building on a beautiful lake with a free water fountain and a shelter. I've weathered so many storms there, used the bathroom, filled bottles and picnicked with IronK on the tandem there. The old house was lifted onto a trailer an the entire park had been bulldozed! Nothing but mud remained - the lake was full of goo and orange cones. What a loss for the community. They will probably build something completely unremarkable like a strip mall. I nearly cried.

The next fun was that my favorite ascent out of the valley, Creek Road, is also still closed after the flooding last year. It was under heavy construction. I dutifully followed the detour which included a far longer, steeper climb. Happily, my rental legs (they sure can't be mine) still got up what was probably a 6% sustained grade at 10-12 mph.
Long Rollers on CTY11
Prairie - there is still some left
However, this was also the start of "hmm, where do I go next". Good thing I'm doing this instead of someone else - I'll have to be adjusting the cue sheet for the closure. At the top are yet more rollers to Victoria, again the giant PBP-like ones. A coyote trotted across the road directly in front of my and plopped himself down in a patch of flowers. Unsure at first what he was, I stopped halfway up and we just stared at each other for a full minute. Then my brain said, "take a picture stupid"; of course, he dashed off as soon as the camera came out.

This area alternates between lakes, corn fields, and parks. The rolling terrain offers some really impressive views that go on for miles and miles. The barns on the horizon across of field of resplendent corn (twice as high as usual for this time of year) reminded me of how rural Minnesota can be, even 30 miles from downtown.
Carver Park Reserve
At Victoria, I continued north on rollers through Carver Park Reserve, where I favor skiing in the winter. I continued to maintain the peppy pace even on Hwy 7, not my favorite road, but more big rollers with views that pleased. Through St Bonifacious and finally the turn north past Swede Lake to Watertown.

Watertown used be the home of Crow River Coffee, which had a mean panini. It had been closed for a year, but as I rolled into town - more construction and that entire side of the block had been razed. The small bridge was decimated, and no left turn available to get to the MarketPlace Foods. I again followed the official detour - straight up the bluff at 15% - I kicked into my lowest gear and spun up as fast as I could. Which was pretty fast!

A few blocks and then it was 15% down to the control. I had some rice cakes that turned out to be moldy. Sure wish I had looked before that first bite. I threw them out, rinsed my mouth and bought some pomegranate juice and water. I was also trying out a new powder called UCAN.
It was made of some kind of space age starch. Big thumbs up for pomegranate juice. The UCAN tasted like cornstarch, meaning chalk. It was some of the nastier stuff I have let pass through my lips on a ride. Back to Scratch for this kind of thing. I'd gotten to 40 miles at a blistering 2:38 of pedal time with about 30 minutes spent watching wildlife, taking pictures, and figuring out where I was after the detours. Yowsers, the rental on these legs was probably going to max my credit card.


Crow River at Watertown
Only about 29 miles to go. Unsure how to navigate the one way cone festival up and down the bluff, I found a pedestrian bridge over the river behind the control that plopped me right back on the route without any climbing. Hallelujah! CR24 back to Mound was yet more rollers and there was almost no traffic.

A few miles outside Mound, a guy on a go-fast bike (the kind that has flat tubes and more carbon fiber than the Trek Factory) passed me with that, "out of my way inferior female putz"
Outside Watertown
Cty Rd 24 From the Top of the Roller
air about him. Sure I was on my rando bike with a big handlebar bag, but I was just not in the mood for such things. So instead of just taking it in the lip as usual, I hit the gas and gave chase. I was probably 20 ft behind him when he turned his head around and saw me right on his tail. His eyes got really big and he stood to climb the last few feet of the roller we were on. Undaunted, I stood too grabbed the bars and took off over the top of the roller like a rocket. Down the other side and I passed him going into Mound on the flat stretch outside the city limits at 28 mph. We met at the Main Street stop light and the sweat was just pouring off of him; take that kitted racer-dude, you've been dusted by a middle-aged female who is NOT the one having the hot flash right now. He gave me a stunned look, talked about putting on sunscreen and pulled off the road. I continued on.

Of course, something like that does not come without cost. I'd pretty much emptied the tank in a sprint that long and I suddenly had a not so good feeling in the pit of my stomach. I had to slow up for a couple of miles and start eating gumdrops to avoid bonking. The UCAN was undrinkable and I didn't have anything else. Fortunately, the grace of the universe put an 8 year old on the trail next to the road with a lemonade stand. I threw out the UCAN and gave her $10 for pretty much her whole supply (filling both bottles). Sure I probably overpaid, but it was for a good cause and I didn't have change.

The trip in on Shoreline Road is quite pleasant and I sped up having downed half the lemonade pretty much before getting back on the bike.


Wayzata is also under construction and despite the fact that every cyclist in the city seems to be riding through the closed road, I'm just too lawful for that. You can get ticketed for something like that. So I took the detour instead. Of course, instead of a largely flat, sweeping road, the detour took me up near a frontage road with some very steep climbs. I grated my way up them and continued through the hills finally rejoining Minnetonka Blvd. That construction project is both huge and a pain. I'm sure what was a very pretty intersection at the 101 and Eastman is going to be an impersonal freeway when there are done.


So back to the YesMart I arrived. At this point, it was 90! I was out of lemonade and bought some Pellegrino Blood Orange which was the only classy thing to eat or drink in the entire place. Someday, I will purchase a hookah and send the receipts to Crista - just for a laugh.

So I pulled in having done the whole thing at an average of 15.7 mph. Believe me, with all the hills and the stop and go, I had to generally go a lot faster for that to be an average. But I got my wish and I've decided to temporarily keep the rental legs. Until I can trade up.